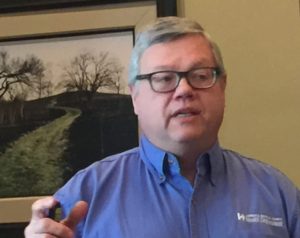 Dan Partridge, head of the Lawrence-Douglas County Public Health Department, shared a report on the health of Lawrence .
The forty-two people who work in the Public Health Department are proud of its designation as an "accredited health department."  Together, they strive to fulfill their mission:  To improve health for all.
According to Partridge, quality of life for a person and for a community are impacted by the same factors.  About 10% is influenced by health care; 10% by the physical environment; 40% by socio-economic factors; and 40% by health behaviors.
Douglas County is among the top ten counties in the country on many measures.  The community compares particularly well regarding its low teen birth rates and its few preventable hospital stays, for example.  Areas that need more work are in affordable housing, excessive drinking, social isolation, and income inequality.  All such issues are complex and difficult to impact.  On many measures, a distinction is apparent between the quality of life in East and North Lawrence as compared to West Lawrence.
Public health has 140 years of history in Kansas, Partridge says.  At the onset in 1885, the focus was on improving the environment.  By the 1940's, 50's, and 60's, the emphasis was on disseminating the innovations made possible by medical science.  Vaccination services, family clinics, and the Healthy Family Program all emerged in that era and continue today.  In the future, community health must re-invent itself once again to address new dangers, moving beyond the clinic and into the community itself.  Currently, the Department is focusing on healthy foods and physical activity, poverty and jobs, behavioral health, and affordable housing all viewed through the lens of discrimination and racism that unfortunately underlies each of these issues.