We were treated to a talk from Coach Gill who discussed his positive coaching philosophy and what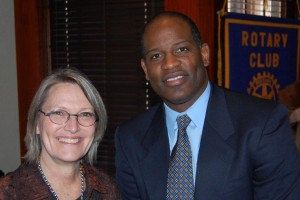 values he imparts in his players and some wonderful stories from his years before coming to KU. One great acronym he imparts on his players is "BELIEVE"
B. Believe in each other
E. Empower people by encouragement
L. Learn and press on toward the Goal.
I. Influence by being a positive role model.
E. Expect great effort all the time
V. Visualize Excellence
E. Enjoy the college football experience
Here's a pic of Club President Carolyn Chinn-Lewis with Coach Gill.
Thanks Coach!