Colonel LaGrange is a retired army officer who commanded Fort Riley during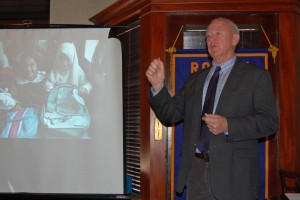 Desert Storm. He served for 28 years including multiple tours in Viet Nam and Laos. He has a passion for helping children in difficult places. He has been in leper colonies, refugee camps, orphanages and children's hospitals around the world. He firmly believes that education is an essential ingredient in bringing about the stability and order that we seek. He firmly believes that helping children learn properly and gaining their trust helps the society that they are part of mature and move toward order.
He has formed "Help us Learn . . . Give us Hope" whos mission provides school supplies to Big Red One (Fort Riley) soldiers for children in conflict areas of Afganistan and Iraq.
Based on a successful effort in Viet Nam 40 years ago, the corporation has multiple objectives:
Supports Iraqi and Afghan school aged children by providing basic school supplies and sponsorship. Their education is the greatest hope for their future and the stability we seek.
Enables soldiers to win hearts and minds by focusing on children. Good will builds through direct distribution and relationship building.
Directly engages US citizens in the process of assisting children and our soldiers in Iraq and Afghanistan. You can make a difference while helping our country achieve its objectives in Iraq and Afghanistan.
Builds on a similar Viet Nam experience. Focusing on children has a profound effect.
Endorsed by the Governor of Kansas, all 50 National Guard armories state wide have been opened as collection points and a statewide marketing campaign is underway.
The vision is to provide each child with a back pack filled with basic supplies and to provide the teachers of the schools with sufficient basic stock to sustain them for a period. The items included are: Back packs or book bags, pencils, sharpeners, erasers and pens, paper ( notebooks, reams of paper, writing pads), crayons, coloring books, construction paper, scissors, rulers, calculators, chalk and blackboard erasers, tape, staplers, small toys that fit in a back pack (beanie babies, stuffed animals, cars, Frisbees, jump ropes, chess, checkers, soccer balls), tooth brushes and tooth paste.
For more information or to contribute to "Help us Learn . . . Give us Hope" visit their website at: http://www.helpuslearngiveushope.org/