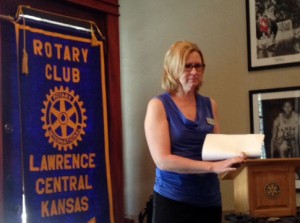 The School of Business at KU is launching anew online MBA program. The new facet to the school was presented by Administrative Director of Masters Programs, Dee Steinle, who is the wife of Central Rotarian Michael Steinle.
"It's an interesting way for a University to do business," she said of the growing online presence  of university classes.
"Two years ago KU launched an online special education degree," Steinle said. When market research showed an MBA would find an audience,  the process began.
Citing her own middle school aged son's ease with learning online she said predictions are that by 2020 there will be five million online students in the country.  Currently there are 450 MBA programs on line but only 20 are ranked programs. "It's getting harder for people to attend classes in person," she said "so this is the answer."
KU will provide the "talent," creating the syllabus and teaching the courses, the first one to be offered in August, the second in October. EverSpring, a private company out of  Chicago will handle the technical details.
"There's going to be a lot of learning on my part as we ramp this up," she said.  They are formulating an admissions process and creating an eight-week cycle of class offerings. "We will  try to keep human touches too, providing places for students and graduates of the program to come together.
For more information about the program point your browser to http://onlinemba.ku.edu/online-mba/