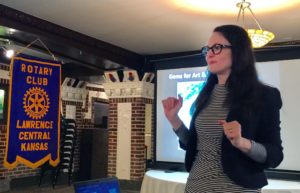 The Spence Museum's Director of External Affairs Margaret Perkins McGuiness brought Lawrence Central Rotarians up to date on renovations at the museum as well as filling them in on museum history at the Rotary meeting on January 11. Using slides and a video, she detailed the museum story beginning with gifts of art from Mrs. Thayer of the Emery Bird Thayer Company in Kansas City and contributions from Helen Forsman Spencer .
The museum has gone from being housed in Spooner Hall in 1895 to its own building which is now being enlarged and modernized to make exhibits even more accessible, especially for art classes. "The museum will be brighter, more welcoming," McGuiness said "with smaller, flexible exhibits that can be moved more quickly. And there will be more art outside around the museum," she said.
Begun with Mrs. Thayer's collection, expanded by Mrs. Spencer, the museum began an internship program in the 1980s, and is part of the Mellon Foundation Academic Programs.
"We are adding staff members to work with this, "McGuiness said. "The Spencer is one of the leading art education museums in the country, counting the curator of the Manhattan Museum of Modern Art as an alumnus."
The collections range from works by Thomas Hart Benton to Andy Warhol, and include a western collection, very contemporary types of art in a room recently built especially for them, and "cabinets of curiosities" –smaller items in collection.
"Our goal in this renovation," McGuiness said " is to make the museum a part of the campus transformation. We want to make it more inviting, with more space for teaching, more open, more functional.
"We want visitors to the museum to look at art, look around and look inward."