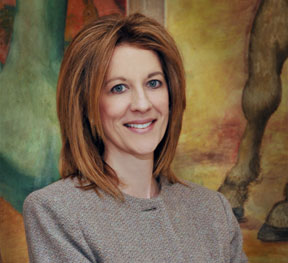 Stephanie Kelton, Ph.D., challenges conventional thinking about the economy.  In Kelton's mind, the national debt is not a problem. Instead, the challenge to American leaders is "slowth"–slow growth and low inflation. For a remedy, she recommends a change in fiscal policy: spend more and lower taxes to encourage growth. These strategies will tap the "spare capacity" in the United States and restore Gross Domestic Product to its higher potential growth rate.
Kelton's ideas have proven correct in the past, as her website explains.  Among her impressive track record of economic foresight, she "predicted the debt crisis in the Eurozone" and "that: (1) Quantitative Easing (QE) wouldn't lead to high inflation; (2) government deficits wouldn't cause a spike in U.S. interest rates; (3) the S&P downgrade wouldn't cause investors to flee Treasuries; (4) the U.S. would not experience a European-style debt crisis."
Kelton served as Chief Economist on the U.S. Senate Budget Committee (minority staff) in 2015 and then became an Economic Advisor to the Bernie 2016 presidential campaign. In 2016, POLITICO recognized her as one of the 50 people across the country who is most influencing the political debate. She is a regular commentator on national radio and broadcast television.  Kelton has been Professor of Economics at the University of Missouri-Kansas City for the past 17 years. This fall, she will begin teaching at Stony Brook University in New York.