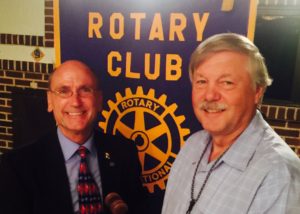 Fred Atchison (right) accepted the gavel from Jim Peters to become 2017-2018 LCR President on July 5.  Fred, a Paul Harris Fellow, has been a Rotarian since 1998 and a member of Lawrence Central Rotary since 2011.
In his remarks, Jim commended the club for its continuing transition in membership commitment and comradery.  He sees that the club's mission continues to mature and to become more focused. During the past year, the club decided on a primary fundraiser—a goal that Jim had set as a challenge—and he declared that the success of that effort has far exceeded what he had envisioned. "We have such a great club—a great group of people with whom it is a joy to be associated."
Members of the board for the coming year include Audrey Coleman, President Elect; Steve Mason, Vice President; and Peters as Past President.  Megan Richardson continues as Treasurer and Shelly McColm as Club Administrator.  Jim Evers, Membership Chair, and Michael Steinle, Foundation Chair, also continue in their roles.