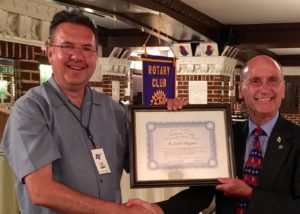 Scott Wagner received the "Becky Castro Award" at the July 5, 2017, club meeting from outgoing president Jim Peters.  Scott has been a member of Lawrence Central Rotary for thirteen years (since December 2004), is a Paul Harris Fellow, and served as club president in 2008-2009. In recent years, Scott has managed the roster of programs for the club, arranging a variety of stimulating speakers and communicating the program topics to the club weekly. Recently, Scott accepted the role of President Elect on the board of the newly-formed Lawrence Central Rotary Club Foundation.
Congratulations, Scott, on receiving the second Becky Castro Award. Thank you for all you have done for Lawrence Central Rotary and the Lawrence community.
Rebecca "Becky" Lizabeth Castro was a founding member of our club who died after a long illness in June 2014 at the age of 68. A lifelong resident of Lawrence, Becky was active not only in Rotary, but also numerous other community organizations. Her warm welcome greeted everyone who came to a Lawrence Central Rotary meeting. In spring 2015, Past-Presidents Tobin Neis and Carolyn DeSalvo conceived of the Becky Castro Award as a way to honor the memory of this tireless founding member. The criteria state that the award be given to a member who exemplifies the dedication to community service and the love of Rotary that Becky displayed.
In March 2016, Past President Steve Lane recieved the first Becky Castro Award in recognition for his leadership of the Community Bike Ride initiative.