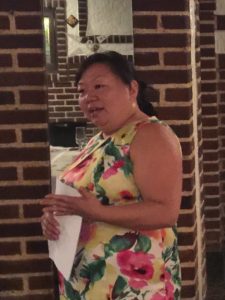 Ecumenical Campus Ministries "offers welcoming and neutral spaces where the KU and Lawrence communities can open their hearts, minds, and spirits to one another," according to Kim Brooks, Executive Director. ECM is well-located for this purpose at 1204 Oread Avenue, just across the street from the KU campus.  Supported by various Lawrence churches as well as individual contributors, the organization seeks to establish "dialogue that builds bridges" and focuses on providing answers to questions regarding vocation and career, sexuality, global and environmental justice, faith dynamics, cross-cultural awareness, and hospitality.
A variety of gatherings encourage the dialogue, in particular the Interfaith Café, an informal discussion about life issues, and the long-standing University/Community Forum, a free talk on various topics that takes place every Wednesday at noon. ECM also maintains the Solidarity Library on its main floor, a collection of progressive books, journals, films, and magazines.
ECM serves the body as well as well as the mind by hosting a food pantry and a Thrifty Closet of clothing and household items. Veggie Lunch, Soup and Song, Tai Chi and Chai Tea, and Yoga–Pure and Simple are all on the calendar this fall.  In addition, the facility will soon open its hostel, a dormitory-type space with bunk beds that can be rented by the day for a low cost.