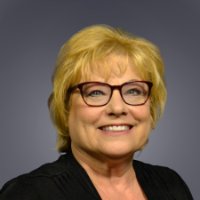 The numbers are impressive!  Midco's core network of fiber-optic line is 8,600 miles long, forming a web connecting 335 upper-Midwest communities in five states and delivering 99.9999% network availability. In January, 2017, Lawrence and six other Kansas towns joined the customer mix as Midco acquired the WOW! market in the area.
Debra Schmidt, Business Development Manager for Midco in Kansas, is an eighteen-year veteran of the company. Her perspective makes her an ideal spokesperson for Midco.
Schmidt explained that Midcontinent Communications, or Midco, is a regional Internet, cable TV and phone provider. Begun in 1931 to manage a collection of movie theaters, Midco has evolved and matured. It is known today for delivering some of the fastest Internet speeds in the country. It also offers services such as WiFi home management, Smart Home, and Whole-home DVR. Midco Lifeline subsidizes phone and Internet service to qualified low-income households. The company's products can scale to fit very small businesses to large enterprise organizations.
The Midco Foundation has given away $4.5 million since 1987. The impact is already making a different here in Lawrence: Midco was a major sponsor for the Cottonwood Salute fundraiser; sponsored movie nights for Downtown Lawrence; and gave away water bottles to KU students as they returned to campus. Another major gift to the Lawrence community will be revealed in the coming weeks.
Another innovation sure to please Kansas customers is the launch of Midco Sport Network (MidcoSN).  Channel 32/232 will broadcast local sports events beginning in September with prep football.  Kevin Romary and producer Kyle Haas joined Debra to talk about this exciting new program.