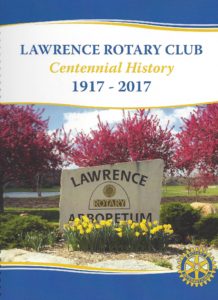 Lawrence Rotary Club is celebrating its 100th anniversary this year!  Longtime member Andrea Norris outlined the distinguished history of the organization for Lawrence Central members.
The Lawrence Rotary Club began in April 1917, just twelve years after Paul Harris and his business colleagues in Chicago began to meet to network and share business opportunities. Sponsored by the Topeka Rotary Club, there were 23 charter members. W.C. Simons was the first president. Numerous leaders of the Lawrence community have been members. In 1987, the club was among the first to invite women to join. Lawrence Rotary launched the two other Rotary clubs in the community: Jayhawk Rotary Club in 1994 and Lawrence Central Rotary in 2003. In 2015, they initiated Rotary Prime, an organization aimed at involving young professionals with Rotary.
From the start, the organization eagerly promoted the aims of Rotary International, raising money and conducting service projects and fundraisers in addition to enjoying social activities.  Lawrence Rotary has contributed signiticant time and money to support the work of numerous non-profit organizations in Lawrence over the years. In honor of Rotary International's 100th anniversary in 2005, Lawrence Rotary Club partnered with the other Rotary clubs in Lawrence and with the City to create the Rotary Arboretum.  In addition to local commitments, they have been actively involved with international projects and with raising money for polio eradication.