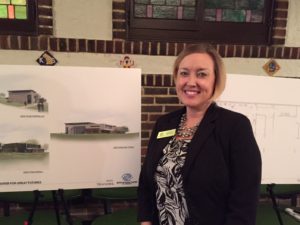 Megan Hill, Major Gifts Officer for the Boys and Girls Club of Lawrence, highlighted a robust history and a "great future" fof the organization.
She described the new Don and Beverly Gardner Center for Great Futures that will open in the fall of 2018 to house teen activities, replacing the small Teen Center on Haskell Avenue. Situated adjacent to the College and Career Center in southeast Lawrence, the new building will allow the school district and the Boys and Girls Club to share and maximize the spaces of each facility. The new construction includes a gymnasium, maker-space, performing arts area, a culinary arts kitchen, admininstrative offices, and classrooms. Although they have raised most of the $4.25 million capital campaign goal, fundraising will continue to complete capital donations and to raise on-going money for programming.
The local club is one of the largest per capita in the country, serving 1,500 young people each day. It partners with the Lawrence school district to provide after-school programming in all fourteen elementary schools in Lawrence. Middle school and high school students are bussed to the Teen Center on Haskell Avenue. All programming supports academic success, healthy living, and character and citizenship, fulfilling the organization's mission: "To enable all young people, especially those who need us most, to reach their full potential as productive, caring, responsible citizens."
Hill asked Rotarians to explain how Boys and Girls Club had impacted their households. The responses from the group echoed the reasons why others say the program is so valuable: supervision after the school day when working parents cannot be at home; tutoring and help with homework; physical activity and good nutrition; welcoming friends, mentors, and tutors.