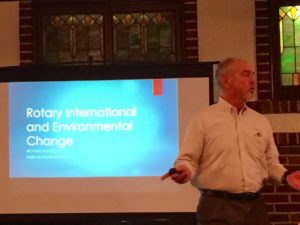 Rick Randolph, M.D., knows first-hand about the impacts that changes in the environment are having on people around the world.  As a long-time volunteer and now a staff member of Heart to Heart International, he has worked in developing countries for 25 years.  Randolph recently returned from assisting with Puerto Rico's recovery efforts after Hurricane Maria.
Environmental events profoundly effect the way people live.  Floods are caused by hurricanes. Mud-covered roads are caused by trees uprooted or swept away in storms. Mosquito-born illnesses occur more frequent in warming regions of the world. Infectious disease rises, the cause of 90% of deaths during draught and food shortages. Diseases such as Ebola arise when humans use slash-and-burn agriculture and move to live on formerly-forested land that exposes them to fruitbats and monkeys. Increases in asthma, emphysema, heart disease, and bronchitis are linked to air pollution. Thermal expansion of the oceans is predicted to cause sea levels to rise three feet by the year 2100, threatening military installations located on the coasts of the United States.  Even civil war often has roots in the environments as draught and famine force people to migrate from farms to cities that become over-crowded and poverty-stricken.
Rotary Interantional President Ian H.S. Riseley envisions Rotarians "Making a Difference" during the coming year.  He urges that each club plant a tree for every Rotarian during the next twelve months and to include sustainability objectives in each project proposal.