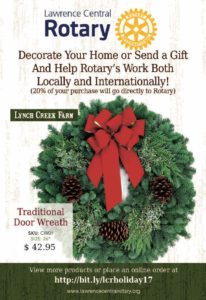 Lawrence Central has launched our annual fundraiser for the work we do every year. As in year's past, we will be selling wreaths and other holiday decorations from Lynch Creek Farms and in Lawrence Central's partnership with them, we receive 20% back from every sale to help fund the service projects we do.  Some examples of our service activities include:
We want to continue to do this work and more with help from you and all you need to do is simply purchase holiday decorations. You can do this by talking to any of our members or there's an even easier way – visit our Lynch Creek fundraising website, peruse what they have, an order yourself!  We've even set up an easy link:
If you're not comfortable with ordering online we totally understand – you can also call Lynch Creek direct toll-free at 1-888-426-0781 and please Lawrence Central Rotary Fundraiser #100925.
Lynch Creek is a family business that started in 1980, now transformed from selling a few flowers and vegetables at the local farmers' market on the weekends, to a full-blown year-round business that ships throughout the United States.
Lynch Creek Farms have been amazing to work with and they care about the groups that sell their wreaths and decorations. Here's a video about the business.