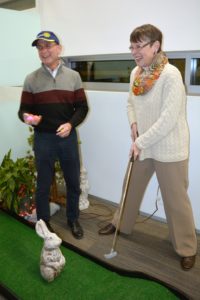 Lawrence Central Rotarians Jim Peters and Kate Campbell clowned around the Rotary mini-golf hole at the opening event for Caddy Stacks. Caddy Stacks is a bi-annual fundraising event for the Lawrence Public Library. The hole was decorated to represent the Rotary Arboretum as a "Wonder of Lawrence ."
Earlier in the evening, Jim and Lee Anne Thompson listened to opening remarks at the party. Jim, Lee Anne, Fred Atchison and Jay Holley assisted with the design of the hole and the set up.
Other club members met this young golfer when they manned the hole during the weekend hours to distribute information about Lawrence Kids Calendar.  The Lawrence Kids Calendar donated calendar publicity to the project.