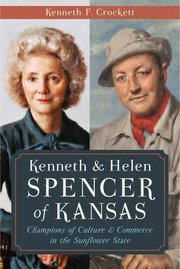 Topeka-based author Ken Crockett spent years researching the personal lives, business successes and philanthropy of Kenneth and Helen Spencer, two people who left a pronounced mark on Lawrence.  Kenneth and Helen Spencer of Kansas: Champions of Culture & Commerce in the Sunflower State is a nonfiction, biographical account of the Spencers and their major contributions, including the Kenneth Spencer Research Library and the Helen Foresman Spencer Museum of Art at Kansas University.
"As I started to write the book, I knew of the philanthropy they had been involved in, but I really had no appreciation for the breadth of it," Crockett said. "I would hope readers could see that these are two very extraordinary people who came from a common background and had a sense of obligation to share success with others."
Crockett, 72, formed the idea for this book while researching another. He spent years of his early post-retirement life reading the correspondence of Kenneth Spencer, whose family owned Pittsburg & Midway Coal Mining Company. After publishing a book on that subject, Crockett returned to the library to take a closer look at Spencer's life. He spent five years researching this book, conducting interviews with remaining acquaintances of the Spencers and reading all he could find.
Crockett earned a bachelor of arts from Central Missouri State University in 1964 and a juris doctor from Washburn University in 1967.