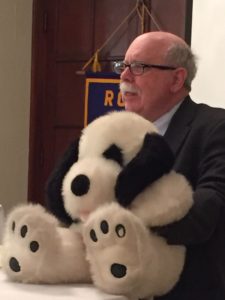 Honorable G. Joseph Pierron, a fellow Rotarian, Lawrence resident, and native Kansan, has been a judge on the Kansas Court of Appeals since 1990.  When he speaks to schools and civic groups, he brings along Spike the Dog to assist him in explaining the court system.
The role of the courts is to interpret the law, Pierron emphasized.  In the Kansas judicial system, there are numerous municipal courts, 79 district/magistrate courts, 167 district courts, the Court of Appeals, and the Supreme Court.  The fourteen judges on the Court of Appeals sit in panels of three to hear about 1600 cases each year. All seven members of the Kansas Supreme Court sit together to hear cases, typically 300 cases each year.
Judge Pierron told the story of the "Kansas Triple Play," a political manuever in 1956 that allowed incumbant Governor Fred Hall to be named to the Supreme Court.  As a result of that situation, the legislature made a change to the Kansas constitution requiring that an independent panel select three nominees to fill Supreme Court vacancies from which the governor can choose.  The same process was used to select judges for the Court of Appeals until 2016 when the statute was changed to allow the governor to appoint Appellate Court judges without a panel review of candidates.
The criminal incarceration rate in Kansas has risen from 1:1000 in 1960 to 3:1000. Pierron indicated that the reason for the change was tougher law enforcement, especially for drugs and child abuse.  Mandatory sentencing has not been issue in Kansas, according to Pierron.  Kansas recently won an award for reducing the backlog of cases in the courts.
Judges are advocating for higher pay for the 1,600 non-judicial personnel supporting the courts in Kansas.  Although pay for judges is also extremely low compared to national averages, the immediate need is to hire and retain well-qualified people in support roles.