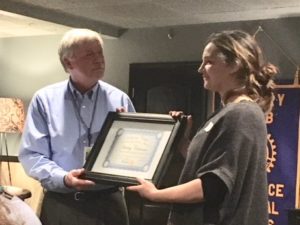 Audrey Coleman received the Becky Castro Award from President Fred Atchison at Lawrence Central Rotary's annual anniversary event.  He thanked Coleman for her work and dedication on a significant initiative to fulfill the Club's mission–the acquisition of Lawrence Kids Calendar.
In June 2017, Lawrence Central Rotary Club decided to purchase the Lawrence Kids Calendar website.  They recognized the website as a fundraising opportunity as well as a public service initiative that was focused on youth and family activities. During the past year, Coleman has taken the role of Project Manager for Lawrence Kids Calendar, providing leadership and coordination during the Club's acquisition and implementation of the online tool. Coleman is currently President-Elect of Lawrence Central Rotary.
The Becky Castro Award was established in 2014 in memory of founding club member Becky Castro in recognition of her lifelong dedication to community service.  It is presented periodically to a member who has put forth exceptional efforts in time, expertise, and personal resources on behalf of Lawrence Central Rotary; been instrumental in shaping and promoting the strategic direction of the Club; made major contributions to the realization of our mission, goals, and objectives; and enhanced the value of membership for all.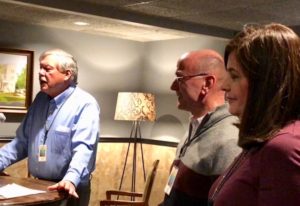 Two other club members were recognized during the anniversary celebration as well.  Jim Peters and Shelly McColm were honored as Paul Harris Fellows in thanks for their service.  Peters was President from 2016-2017.  Since that time, he has served a year as Past President and has been active with the launch of Kids Calendar and with the Program committee.  McColm has served as Club Secretary/Administrator since 2015.  She helps regularly to post events on Lawrence Kids Calendar.
Atchison says, "LCR is a small club which means just about everybody pitches in to get things done. So many club members deserve recognition and thanks. Audrey Coleman, winner of the Becky Castro award, received special recognition for her extraordinary work in managing the acquisition and set up of our new club project: the Lawrence Kids Calendar. This year we are also proud to see Shelly McColm and Jim Peters recognized as Paul Harris Fellows. They have provided great leadership year after year. Thanks to these Rotarians for their good work."