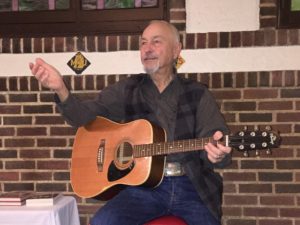 Jim Hoy, author, educator, and Kansas native, sang "The Old Chisolm Trail" to launch his story about the American cowboy.  Cowboys were typically men between the ages of 19 and 22, he explained.  They managed the herds on the long, slow cattle drives from Texas to Kansas, work that was both boring and dangerous.  Cowboys sang to the cattle to calm them and to themselves to pass the time, generating a wealth of music and poetry.
Kansas is the home of the cowboy, Hoy says, a fact that often surprises people. Over 35,000 men and boys–and a few women–worked the Chisolm Trail after the Civil War, driving long horn cattle from San Antonio, Texas, to be sold in Abilene, Kansas.  It was entrepreneur Jim McKoy who took advantage of Kansas State law and talked the Kansas Pacific Railway into running a spur to Abilene so he could ship cattle East from there.  In the five years (1867-1871) that Abilene was the main Kansas cowtown, over 3,000,000 head went through the pens there. The era came to a close as the town of Abilene grew and changed, more farms developed in the area, and the residents began to resist the rowdy lifestyle that the cowtown fostered.
Kansas originated the cowboy boot with its high heel and pointed toe.  Even John B. Stetson's ten-gallon hat has Kansas roots, according to Hoy.  Frank H. Maynard was a Kansas cowboy when he wrote "Streets of Loredo" or "Cowboy's Lament."
Hoy actively helps his son Josh and family who own and operate the Flying W Ranch in the Flint Hills.