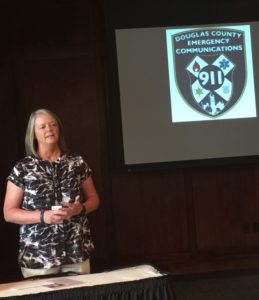 There are eighteen different first responder groups serving Douglas County.   These are the people who do what needs to be done when others don't even want to think about.
These people may be professionals or volunteers.  They include the 911 operator who keeps a suicidal person talking on the phone until help arrives; the patrol officer who gets the victim out of a car despite the danger of a gas line leak; the firefighter who risks a rescue from a burning house before the fire trucks arrive; and the sheriff who risks a gun shot in order to intervene in a domestic dispute.
Since childhood, Michelle Derusseau has admired first responders.  In 2010, she took time to attend the Lawrence Citizen's Police Academy where she listened to the stories and participated in the type of role play training that professional police receive.
Now, Michelle expresses her admiration by serving as chair of the Valor Awards committee.
Started in 2011, the Valor Awards recognize first responders in Douglas County for their acts of bravery and selflessness in the work of saving lives.  Each September, all first responders and their guests are invited to attend an appreciation banquet where the Valor Awards are presented.  Community contributions fund the event as well as the proceeds from a Valor Golf Tournatment sponsored by Intrust Bank.